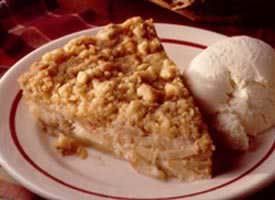 Streusel (Below)
3 Cups Sliced Peeled Tart Apples (3 Medium)
1 Teaspoon Ground Cinnamon
¼ Teaspoon Ground Nutmeg
½ Cup Original Bisquick Mix
½ Cup Granulated Sugar
½ Cup Milk
1 Tablespoon Butter or Margarine, Softened
2 Eggs

Heat oven to 325ºF. Spray pie plate, 9×1 ¼-inches, with cooking spray. Make Streusel; set aside. Stir together apples, cinnamon and nutmeg in medium bowl. Spread in pie plate.

Stir remaining ingredients in medium bowl with wire whisk or fork until blended. Pour into pie plate. Sprinkle with Streusel.

Bake 40 to 45 minutes or until knife inserted in center comes out clean and top is golden brown. Cool 5 minutes. Serve warm or cold. Store covered in refrigerated.


Streusel
½ Cup Original Bisquick Mix
¼ Cup Packed Brown Sugar
¼ Cup Chopped Nuts
2 Tablespoons Firm Butter or Margarine

Stir together Bisquick mix, brown sugar and nuts in small bowl. Cut in butter, using pastry blender or crisscrossing 2 knives, until crumbly.

Recipe Credit: Bisquick Impossibly Easy Pies