This is a Sponsored post written by me on behalf of Buffalo Wild Wings. All opinions are 100% mine.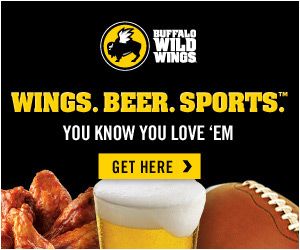 If you have a male in your life, whether it be your father, husband or boyfriend, I'm sure at least one of them enjoys sports. And most like that sport is football. Even better? I love when another female enjoys football like I do. In my family, my husband, my father, along with my brother in law and myself enjoy watching football. Whether it be NFL or college, it's a lot of fun to watch. Even my daughter loves to throw her hands in the air and yell "Yay" when someone scores!
A great place to go for Family, Fun and Football is Buffalo Wild wings. Watch the game while enjoying some great wings and how about the new Game Changer Beer made by Redhook that is offered at Buffalo Wild Wings. August's currently promotion includes the debut of the aforementioned Game Changer Beer, along with the Bottomless Boneless Lunch. I've gone to lunch with my father for the Bottomless Boneless wdings and it is a great value for all the boneless wings you can eat! Make sure you don't miss out! Don't forgot about the specials that go on all the time, including Wing Tuesday and Boneless Thursday.
Even if you do not enjoy football, you can still have a good time. I know I like playing the quiz game against other people who are dining there. It really challenges you and it's great to get your kids involved because they learn along the way! So you can make it educational while your husband is enjoying the game – can't beat that!
Make sure you check out and Follow Buffalo Wild Wings on Twitter and Like Buffalo Wild Wings on Facebook to find out the specials each day that are going on!
Tell Me: What's your favorite football team?