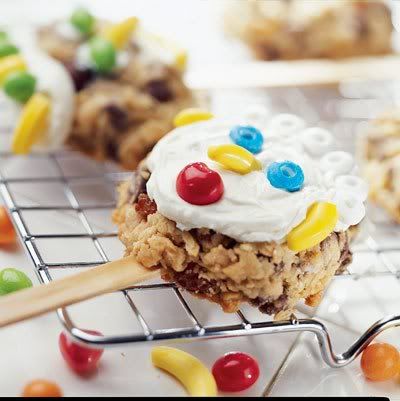 1 2/3 Cups All-Purpose Flour
1 Cup (2-Sticks) Butter or Margarine, Softened
2 Teaspoons Vanilla Extract
2 Cups (12-Ounce Package) Nestlé Toll House® Semi-Sweet Chocolate Morsels
2 Cups Quick or Old-Fashioned Oats
About 24 Wooden Craft Sticks
1 Container (16 Ounces) Prepared Vanilla Frosting, Colored as Desired, or Colored Icing 
in Tubes
1.

     
Combineflour, baking soda and salt in small bowl. Beat butter, granulated sugar, brown sugar and vanilla extract in largemixer bowl until creamy.  Beat ineggs.  Gradually beat in flourmixture.  Stir in morsels, oats andraisins.  Drop dough by level ¼-cupmeasure 3 inches apart onto ungreased baking sheets.  Shape into round mounds.  Insert wooden stick into side of each mound.
2.

     
Bakein preheated 325°F oven for 14 to 18 minutes or until golden brown.  Let stand for 2 minutes; remove to wire racksto cool completely.
3.

     
Decoratepops as desired.
Substitute2 packages (18 ounces each) Nestlé Toll House® Refrigerated Chocolate ChipCookie Dough for the first nine ingredients, adding 1 cup quick orold-fashioned oats and ½ cup raisins to the dough.  Bake as directed for 16 to 20 minutes oruntil golden brown.  Cool and decorate asdesired.  Makes about 1 ½ dozen cookies.