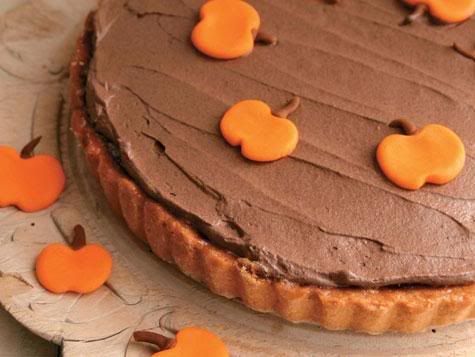 1 Packaged Refrigerated Pie Crust
5 Ounces (5 Squares) Bittersweet or Semisweet Baking Chocolate, Finely Chopped
1 Teaspoon Vanilla Extract
4 Ounces (1/2 Cup) White Fondant
Brown Paste or Gel Food Color
Orange Paste or Gel Food Color
1.

     
Heatthe oven to 450°F.

 

Fit the pie crustinto a 9-inch tart pan with a removable bottom.

 

Liberally prick the inside of the tart shell with a fork and bake asdirected on package, until golden.

 

Transfer to a wire racks to cool completely.
2.

     
Placethe chocolate in a small bowl.

 

Heat 1/3cup of the cream in a small saucepan over high heat just to simmering; pourover the chocolate.

 

Whisk until thechocolate is melted and the mixture is blended and smooth.

 

When cool, whisk in the vanilla and salt.
3.

     
Beatthe remaining cream in a medium-size bowl with an electric mixer on high speeduntil stiff peaks form.

 

Add thechocolate mixture and beat on medium-low speed until soft peaks form.

 

Cover with plastic wrap and refrigerate untiljust before serving.
4.

     
Tomake the pumpkin cutouts, tint 2 tablespoons of the fondant brown, then tintthe remaining fondant orange.

 

Roll outthe orange fondant and cut into pumpkin shapes with a small cookie cutter.

 

For each pumpkin, shape a small brown stem;dampen your fingertips, touch the end of the stem and the top of the pumpkin,and press the stem into place.
5.

     
Removethe cooled tart shell from the pan and place on a serving plate.

 

Spoon the chocolate mixture into the shell,smoothing to an even layer with the back of a spoon.

 

Arrange the pumpkin cutouts on top and serveright away.
Recipe Credit: Halloween by Matthew Mead
Photo Credit: Kaboose