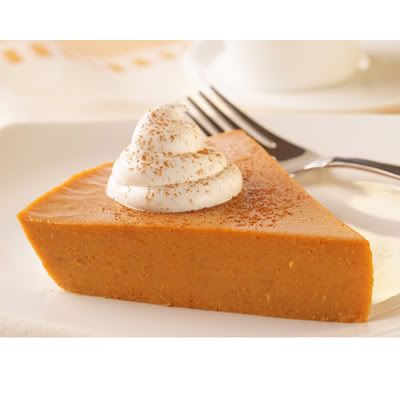 Lite N' Easy Crustless Pumpkin Pie


2 Tablespoons Water
2 Envelopes (7 Grams Each) Unflavored Gelatin
2 ¼ Cups Nestle Carnation Evaporated Lowfat Milk, Divided
1 ¾ Cups (15-Ounce Can) Libby's 100% Pure Pumpkin
½ Cup Packed Dark Brown Sugar or Low Calorie Sweetener Equivalent
2 Teaspoons Pumpkin Pie Spice
1 Teaspoon Vanilla Extract


Coat 9-inch deep-dish pie plate with nonstick cooking spray.

Place water in medium bowl; sprinkle gelatin over water. Let stand for 5 to 10 minutes or until softened. Bring 1 cup evaporated milk just to a boil in small saucepan. Slowly stir hot evaporated milk into gelatin. Stir in remaining evaporated milk, pumpkin, brown sugar, pumpkin pie spice and vanilla extract.

Pour mixture into prepared pie plate. Refrigerate for 2 hours or until set.

Recipe Credit: Nestle Toll-House All-Time Favorite Cookie and Baking Recipes
Photo Credit: Very Best Baking